Bank of America
Exploring financial decision making in the realm of personal banking
Project Brief
Bank of America tasked us with researching, designing and prototyping a customer-centric experience with strong UI that pairs customers
behaviors with intelligence
 that improves Bank of America's customers' financial life. The final solution should explore different platforms such as mobile, connected devices etc.
Team:
Dan Shilov, Elizabeth Miller, Raghav Anand, Michael Anderson and Alicia Salviano
Project overview: Balancing values with actions
We set our sights on finding ways to enable mass affluent Bank of America customers to make better, more informed financial decisions. To meet this goal, our team developed a series of questions that we needed to answer as a foundation for creating a solution. For each of the questions, we analyzed and identified the best research method for finding an answer and deriving insights.
Throughout our studies of financial decision making, we investigated the ways in which individuals' established financial values and knowledge do not align with their actions. We sought to better understand not only the types of unhealthy decisions that individuals make, but also the opportunities for intervention and assistance. Ultimately, we found a series of interesting tensions in the ways people approach their financial choices, in constant battle with one another. Balancing values with actions is difficult, and the motivation necessary to make the best possible choices can be hard to find. While individual definitions may vary, we found that trust, simplicity, and control are key.
Our Approach: Process Overview
To design a solution that helped Bank of America's customers maker better financial decisions, we first had to consider what constituted a "better financial decision." We also sought to understand how trust, automation, and the recent recession affected people's openness to being helped. Our team made a list of questions we found necessary to design in this space and solved them through research.
Our research began with a literature review of
24 academic articles
 and white papers, a
competitive analysis
 of products aimed at helping people manage their finances, and exploration of intervention techniques in
four analogous domains
. Following our secondary research, we 
recruited 17 participants
 and conducted
hour-long interviews
 with each. Interviews included open-ended questions,
directed storytelling,
a
card sorting activity,
and a
radar diagram activity
. Each interview included a
follow-up survey
 to capture demographic information as well questions about trust and financial history. Finally, we conducted
guerrilla research
 where we asked participants to complete a short radar activity.
Secondary Research
Our team conducted a literature review and exploratory research of both direct competitors as well as analogous domains in order to better understand the space of unhealthy decision making.
Dissecting Decision Making
Studying various domains through an extensive literature review helped us to gain an understanding of the human nature of the decision-making process, and where it can go awry.
Key findings:
1. The
future self is a stranger
: we find it hard to build empathy with our future selves and what we will value in the future.
2. People
rationalize
after making a decision that was unhealthy.
3. People often make decisions based on
instinct
rather than information.
4. There is a need to
simplify choices and decisions
that often leads fractured understanding of their decisions that its consequences
5. People are inherently
risk-averse
, and often prefer to eliminate the number of accounts they have rather than paying more off of the one with the highest interest.
Universal Errors in Decision Making
People do not make decisions based on rational thought alone, but instead are universally affected by a set of errors that have been proven to influence the way they think about and approach choices. These decision-making heuristics, or shortcuts, allow for quick decisions but can backfire in situations that require more thought.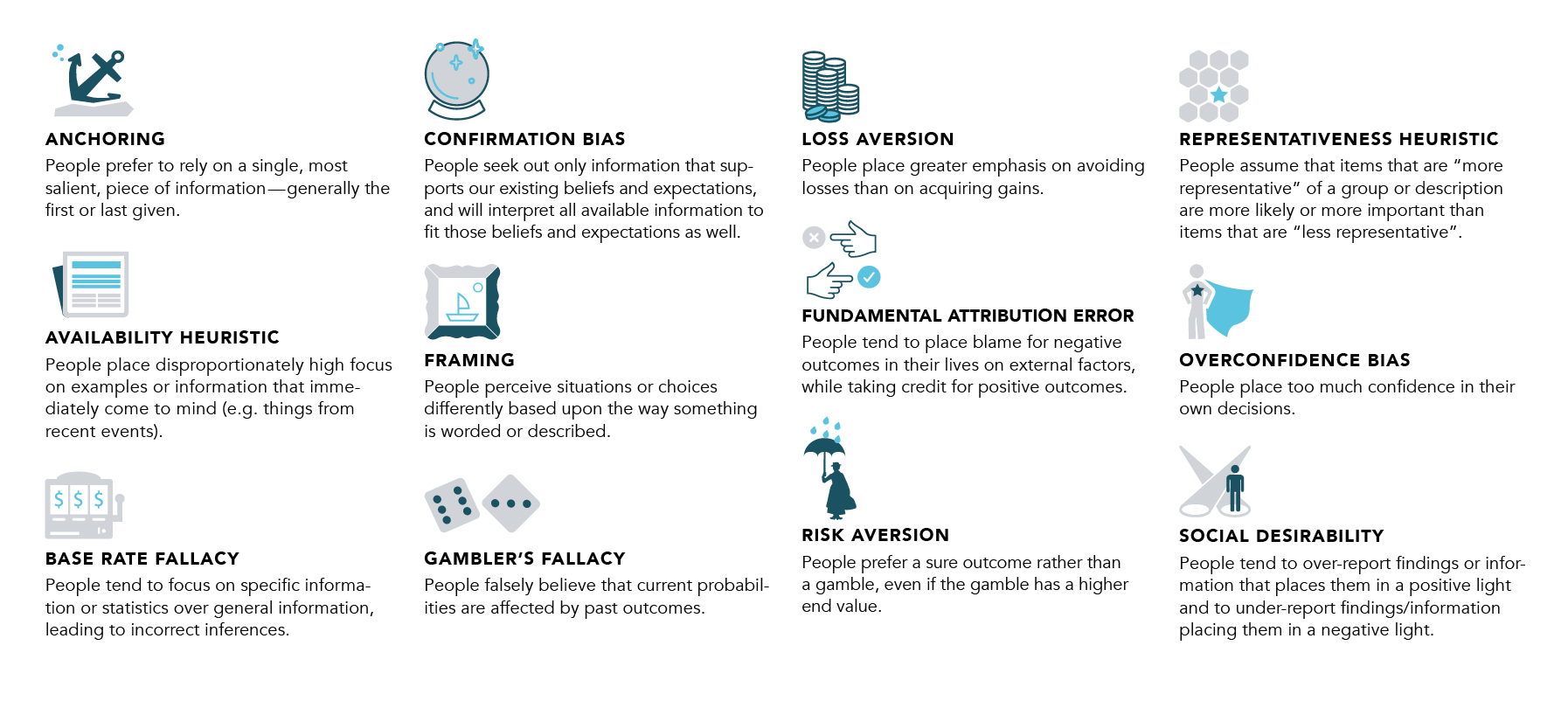 We
studied the competition
through the lens of managing both income and spending habits, and evaluated tools across domains of savings, investment, debt management, bill payment, and financial education. We found that small companies are taking the
biggest risks
with innovative financial technology and tools, and it is paying off. While the threat to large banks is small, they are
driving higher expectations in the retail banking sector.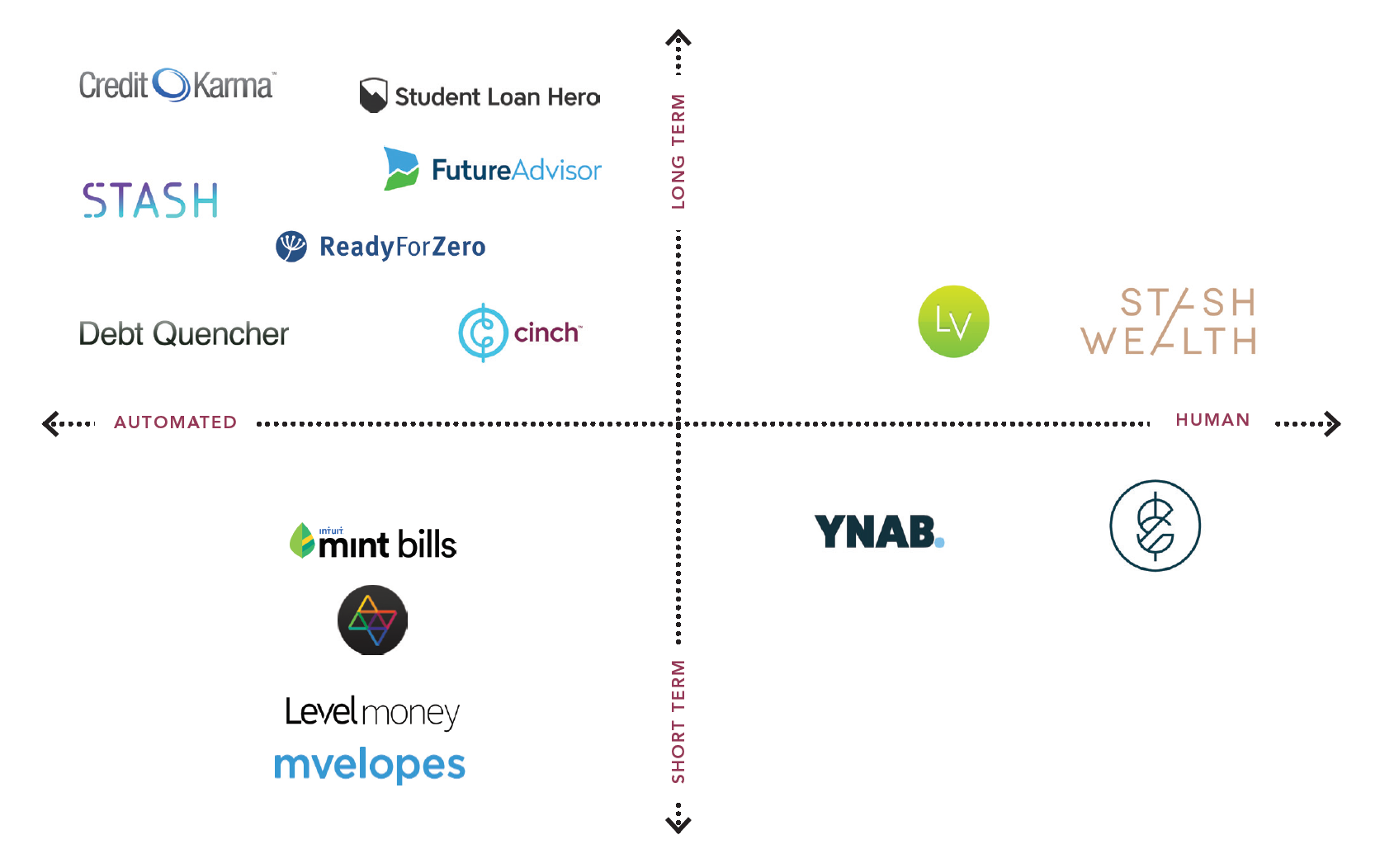 Our team conducted interviews interspersed with structured activities to
better
understand where people obtain financial information and how trust influences decision making.
Overall findings from our interviews in primary research revealed a number of common themes and patterns, and in particular, a couple of interesting tensions. Pursuing higher education, for example, is viewed as crucial to achieving financial success while also imposing an overwhelming burden. 
Other key insights include the
influence of family and friends
, with a heavy emphasis on significant others, as a substantial factor in shaping financial values and decision-making processes;
the value of individuals' past mistakes
in shaping their financial literacy; a direct split between groups of individuals who prefer to take a step back from their finances and those who enjoy or value meticulous calculations and logging; and a
high level of value placed on financial independence
—including the ability to independently research and make decisions.
As themes emerged from our affinity diagram analysis, our team noticed that
many insights within these themes were in direct conflict with one another
. These conflicts led us to additionally organize our findings by way of a series of powerful tensions, both internally to a single individual, and externally among different groups within our target demographic population.
External Tensions
External tensions result from opposing knowledge, values, and behaviors between separate subgroups within our participant pool. These external tensions are important to consider because they play a role mediating between different perspectives and values within the population as a whole.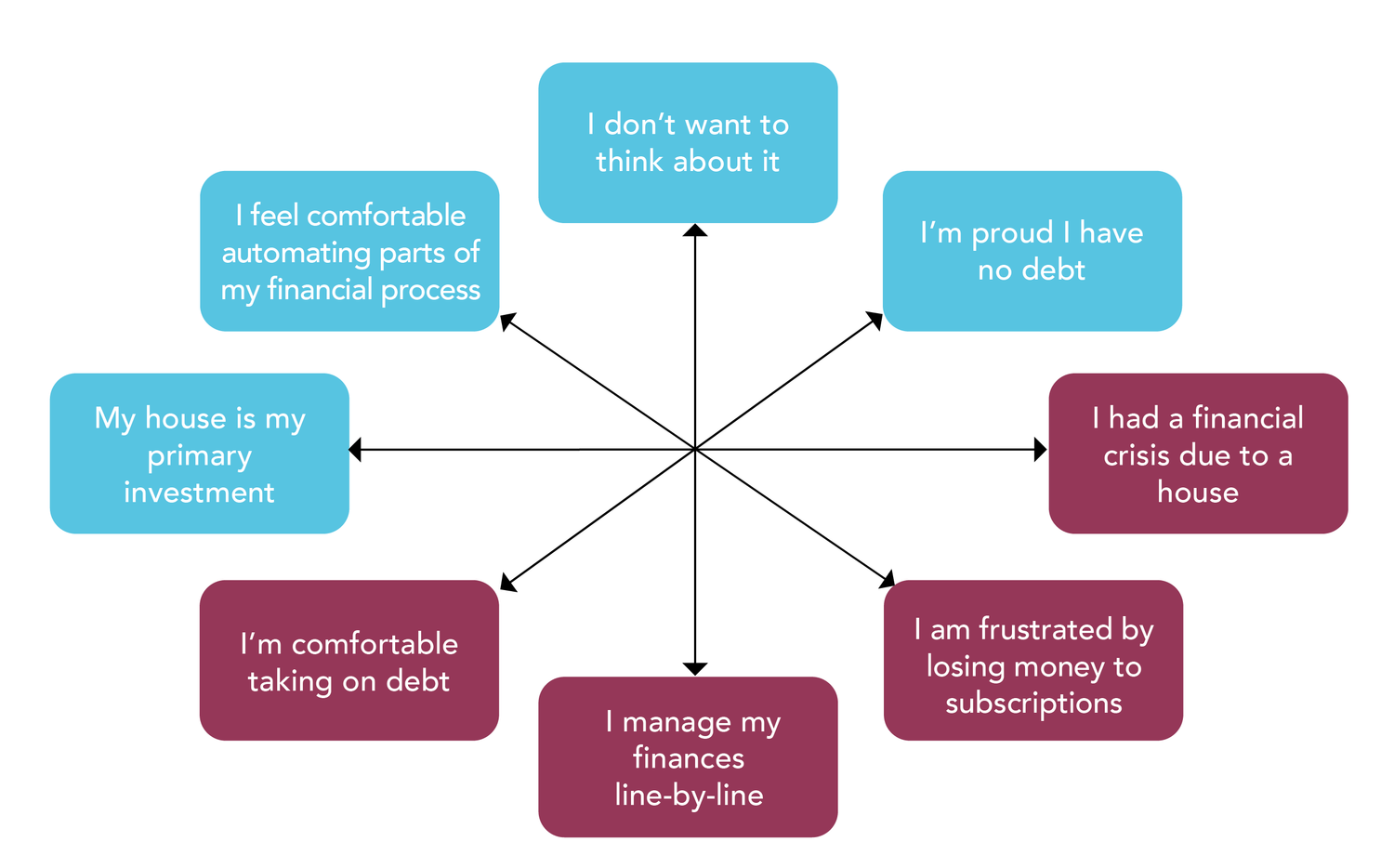 Internal Tensions
Internal tensions describe conflict resulting from incongruent knowledge, values, and behaviors within a single individual. These tensions were observed across genders, geographic locations, generations, and income levels. Many of these tensions were not directly acknowledged by participants but came about through our team's affinity diagram analysis of the data.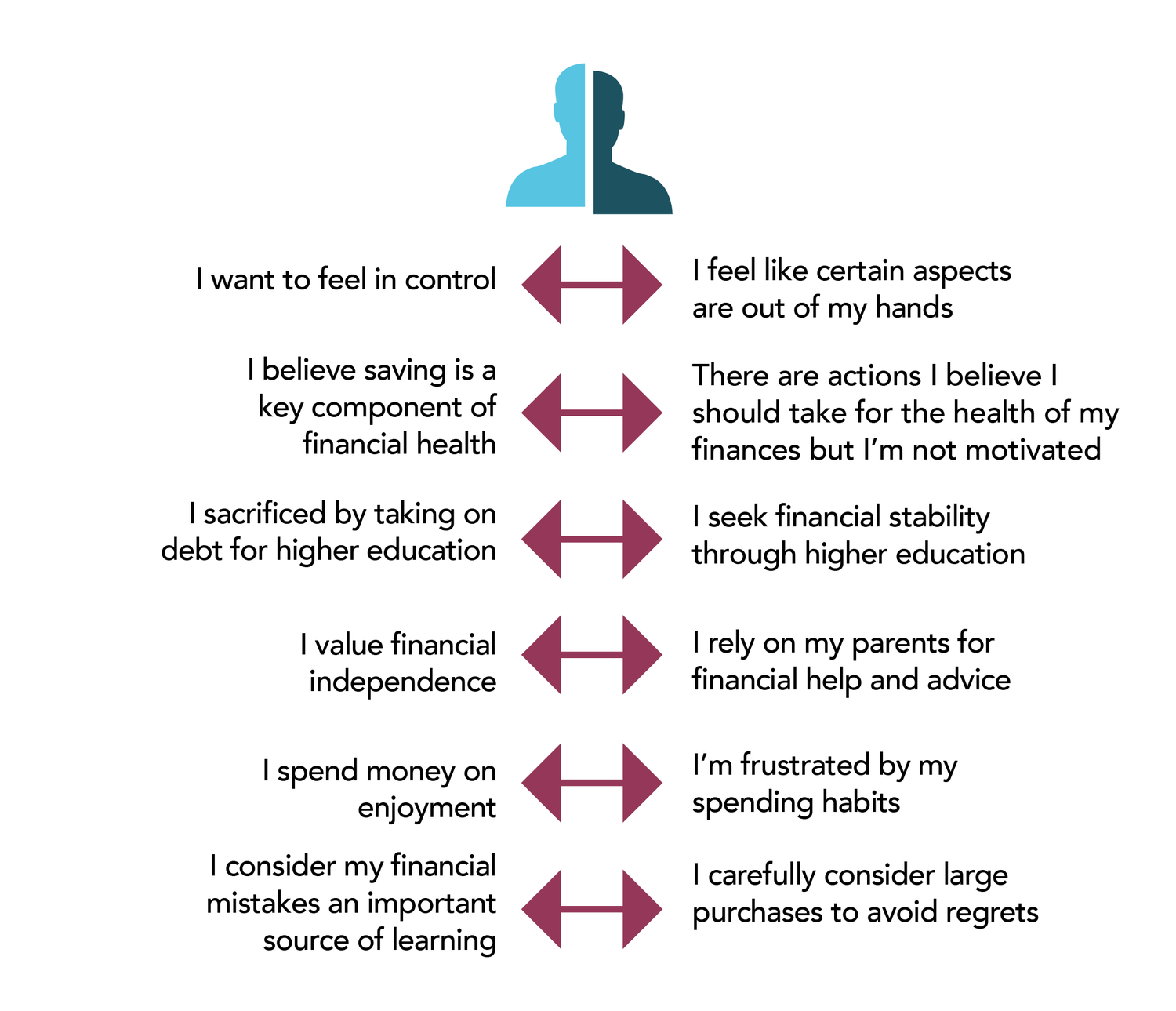 Customer Journey Map
From our interviews, we heard people speak about their financial decisions in the context of their lives. To illustrate the varied needs at different life stages that our users spoke of in our interviews we created a financial journey map based on stories taken from our interviews.
The definition of visioning involves "the development of a plan, goal, or vision for the future." For our project, we wrapped the research phase of our project in the spring with a 45-minute presentation to faculty, students and our clients. Immediately afterwards we jumped into a visioning session with two members of our client team, beginning with a sit down Q & A.
From there, we conducted a structured ideation session around three key activities.
Our creation process subdivides itself into three tiers based upon the fidelity of the prototype produced: low, medium, and high.
With each increase in fidelity, details become more and more crucial.
During our initial low-fidelity stage, concepts were given focus over implementation, and no idea was deemed too wild or implausible. By contrast, our high-fidelity stage prioritized details and feasibility in order to create a product that could be deployed within eighteen months.
Low fidelity process
To begin gathering and evaluating solution possibilities, we needed to begin with extensive exploration.
Note, throughout this part of the project I cannot describe or depict any of the actual prototypes  created because our work is currently

undergoing patent review

and is protected under an NDA.
Medium fidelity prototypes
We set our sights on finding ways to enable affluent retail bank customers to make better, more informed financial decisions.
To meet this goal, our team developed a series of questions that we needed to answer as a foundation for creating a solution. For each of the questions, we analyzed and identified the best research method for finding an answer and deriving insights. From those insights, we used an iterative design process to arrive at a solution.
Due to a non-disclosure agreement, I am unable to show or describe our prototypes while patent applications are in process.
In order to test our prototypes with our peers, we conducted
informal expert reviews
with one individual at a time per prototype. These expert reviews showed us strengths and weaknesses of both concepts; where one offered simplicity, the other offered increased control and detailed information. While we found promising aspects of each prototype, they were not without drawbacks, and simply selecting one of the two to move forward with was not an easy choice.
After this stage
we tested one additional mid-fi concept as a 30 minute think-aloud test with 11 real users
 that we recruited in Pittsburgh and in Washington D.C. I participated in two of these sessions. We also used a matrix activity to plot users' response for possible additions to our design, that matrix was plotted against high effort to low effort, and high reward to low reward. Based on that feedback we made additional adjustments to our prototype as well as worked to prepare
a final usability test that we performed with 12 additional real users in Charlotte, NC with our client observing.
High Fidelity Prototyping and Testing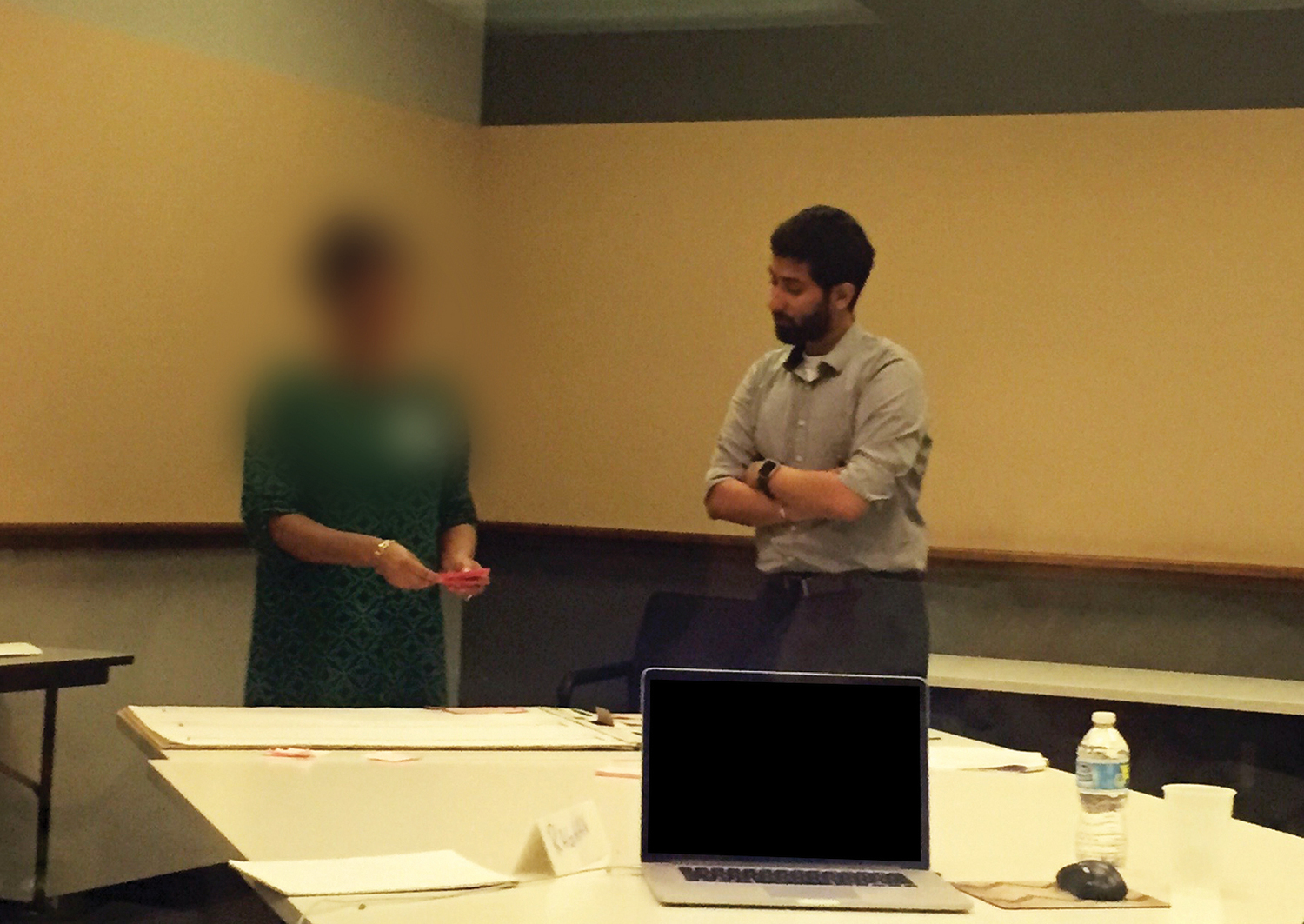 While I cannot describe or show the final prototype, I can say that I began by creating the initial wireframes and information-flow for several sections
while my teammate worked on initial branding and visiual design. We iterated on our design over the course of a week and a half and two teammates and myself built our prototype with Atomic.io. Our team developed a script for the final think aloud test, and my teammate also developed a final activity to test the
proper tone of voice.
We performed our usability test over two days in Charlotte with 12 real users in a lab facility, with our client observing.
I personally conducted two of the tests
. We were able to make several changes to our prototype between the first and second day which ended up resulting in several key findings. After the testing was over we combined our individual notes and two other members of our team worked to distill the findings.
A working prototype built with Sketch and Atomic
— Designed and developed by myself and Lizzie Miller
A 36 page report
 of our process and findings — Designed and written by Dan Shilov, Alicia Silvano, and Lizzie Miller
"Guidelines Going Forward" White Paper
 — Designed and written by Dan Shilov and Alicia Silvano
Two minute pitch video
 — Storyboard, script, production and editing by Lizzie Miller and Michael Anderson
A 45 minute presentation
, given in Charlotte to client and internal stakeholders — Developed by team