Footprint - Kickstarter Video
Kickstarter campaign video production for an IoT connected scale
What is FootPrint
Our team was tasked as Interaction Designers to choose one Internet of Things technology from a predetermined list, and then match that to a user need. After the ideations phase, we were to communicate the user experience using video as a medium. This exercise was meant to simulate a video pitch to investors akin to a Kickstarter video.
Footprint is an innovative smart mat that tracks people's locations, accessible in can be accessed in severe situations. By placing footprint in doorways, the mat's smart scale will non-invasively track people's movement through a building by precision pressure detection made by a person's weight as they step on the mat. 4 built-in scales will pick up directionality of movement, which tracks when All tracking data is live updated via wi-fi, kept in our secure servers and can be accessed by emergency personnel when needed through our highly comprehensible companion app.
We did background research on existing products and how they were being used in the larger Internet of  Things space. We found a lot of products being targeted towards home alarm systems and daily things that do aid humans in performing basic functions. We felt there was a glaring gap when it came to life-saving technology. WE envisioned the connected scale as an input mechanism for counting how many people were in a room/building at a time and keep this information is a secure server only to be revealed to fire safety officials in case of a fire emergency. Our research showed that firefighters currently have no way of knowing where to focus their search on a house. This would enable them to focus on the dense areas rather than waste precious time in empty rooms.
We identified our target audience as working class individuals/families seeking a peace of mind, hotels, and travelers.
Designing a Kickstarter Campaign
We wrote multiple scenarios and drew sketches to help us brainstorm ideas and find breakdowns and opportunities that can help our target audience achieve peace of mind by using our product.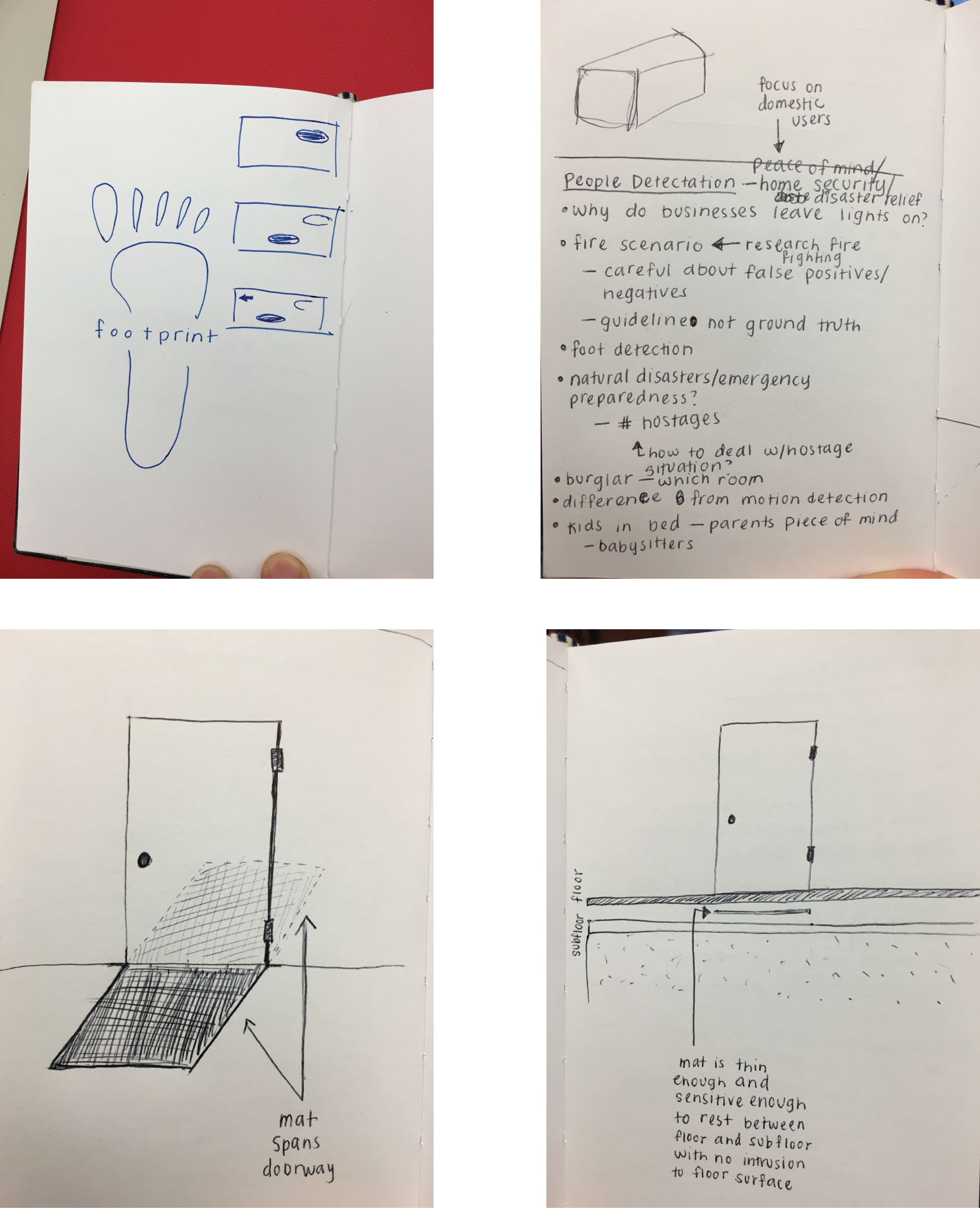 Iterations
Our goal was to make a two-minute Kickstarter campaign video, for which we wrote a script and went through multiple iterations, two of which are presented below.
Sketching video frames
As our team comprised of film making amateurs, we learnt the tools of the trade - made a game plan, sketched out each frame and lined by background music and the B-roll along the video.
Example User Interactions
To showcase what our target audience would be investing in we mocked up some iPad interfaces showcasing how the smart mat would visualize how many people are in each room.
Recording and editing
We borrowed equipment from CMU and learnt how to record professional quality film footage and how to record audio in such a way that it synced perfectly with our video. Once we had all our content we sat down to edit all of it into a two minute Kickstarter campaign video. For this, we used

Adobe Premiere, Photoshop, and Illustrator.